SPLICED: Students display their critical, creative and reflective thinking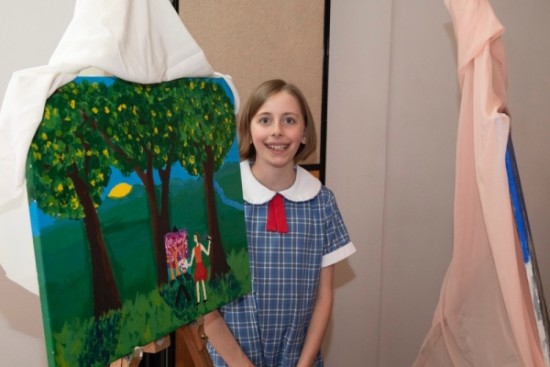 St Michael's students have had the opportunity to showcase their talents and works as part of this year's SPLICED (Stretching Potential through Learning in Interactive and Challenging Environments in the Diocese) program.
The creative endeavours, which all fall into the theme 'the good, the beautiful, the true' were created by primary and secondary students for this year's SPLICED program, which challenges students to complete engaging activities based on key dimensions of the Australian Curriculum.
The program culminated in a prestigious launch event at The Fraternity Club in Fairy Meadow this term, where over 90 students plus family, principals and teachers gathered to celebrate their individual projects across 72 different subject matters.
"Today we recognise our successful students who have produced, reflected, created and processed at a level of thinking and ability that most of us should be in awe of," said Catholic Education Diocese of Wollongong (CEDoW) Professional Officer for Gifted Education, Creativity and Critical Thinking, John Charadia. "We've seen the most diverse range of gifts. We are very much allowing [students] creativity to blossom."
"Our team of tutors and supervising teachers invited deeper thinking through questions that challenged emotional, spiritual and social intelligence. Questions were posed that opened the mind to consider levels of self-awareness, self-management, social awareness and relationships, and the students have responded with a depth that deserves attentive reading," he said.
At the launch, students spoke about the impact the project had on them personally – and the transformative power of self-expression. Energy levels were high during the conversations and encounters by all guests, as they wandered around the exhibition engaging with the students.
St Michael's student, Evie Wood, who produced the work, 'Putting the Life into Story' [pictured above].
"I thoroughly believe that creativity can be harnessed through seeing the goodness, feeling the beauty and knowing the truth of an accomplished life. If your vision is beautiful and filled with intentions of contributing to the greater good, then your truth will take flight in the minds and hearts of all" — Evie Wood, student
Attendees were amazed by the diversity of the manifestos, speeches, slide shows, essays, iMovies, poetry, visual imagery and research papers all touching on themes that have moved their young creators.
In a beautiful morning of acknowledging, celebrating, sharing, honouring and reflecting on the student's achievements, CEDoW Director of Schools, Peter Turner, congratulated the children on their outstanding successes.
"Through this process, students have discovered empathy, compassion, love, community, forgiveness, justice and inclusion, and have made critical judgements on the virtues of goodness, truth and beauty in our world," — Peter Turner, CEDoW Director of Schools
"The aim [of this program] is to equip students to become lifelong, independent learners and to search for meaning and relevance in a complex and challenging world."
Mr Turner acknowledged CEDoW Head of School Improvement Services-Specialist Support, Dr Paul McCann, Mr Charadia, the team that supports him in this work, the workshop tutors, gifted education contact teachers and classroom teachers who have guided, facilitated, nurtured and acknowledged these inspired and wonderful children.
Concluding the launch, Mr Turner said, "Regardless of the field of endeavour that these young people will embark upon into the future, the concepts of imagination, innovation, ingenuity and critical thinking are central to success. These skills, gifts, and talents are lifelong and they're enduring, and they're to be cherished".
"As parents and educators in partnership, let's make sure we nurture that notion of hope and forward looking, and making a difference. Our world will be in safe hands if these young people become core to its existence."
---
St Michael's was one of several CEDoW schools that participated in SPLICED this year. Read more from across the diocese here.