Down the rabbit hole with Alice in Wonderland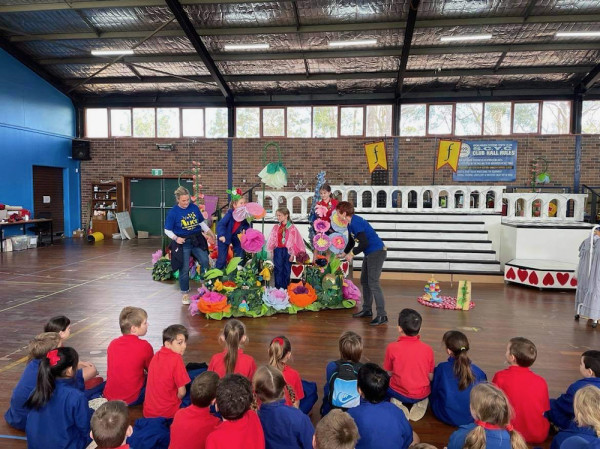 Year 2 have had a magical time learning about Fairy Tales in class. A highlight of the unit was visiting the set of the Shoalhaven's 'Alice in Wonderland' musical production – to be held in the school holidays at the Shoalhaven Entertainment Centre.
The students loved exploring the set and engaging with some of the cast of this new musical – based on the familiar story by Lewis Carroll and with music and lyrics by Janet Yates Vogt and Mark Friedman – that takes us down the rabbit hole with Alice and all your favourite characters.
St Michael's has a special connection to the show – we're very proud to say one of our own students, Keira Sater, will be up on stage performing as one of the Rose Painters!
Keira was selected to be part of the group of 70 talented children aged between 10–15 years cast for the show, and has been rehearsing weekly since February to bring to the Shoalhaven community this magical story of a girl in too much of a hurry to grow up.
We wish Keira all the best with this wonderful opportunity. No doubt many of our Year 2 students, families and school community will be there to cheer you on!
Photo Gallery: Year 2 Visit to Alice in Wonderland Set